UK lockdown areas of high risk
Covid 19 is a serious international pandemic that is testing the ability of every country in the world to continue to function with social distancing and other measures such as masks and hand gels.
Production lines have been affected, but food is getting through to the supermarkets. Some goods such as timber are in short supply. Ultimately, in a total lock down situation, imported goods will dry up. But that is unlikely to happen. Preparations for this scenario have been poor.
Working from home, if you can, is an ideal way of staying safer, using emails, video conferencing or phones to communicate.
We are lucky to be in the digital age. But agricultural workers are the lifeblood of communities.
IMPORT, EXPORT
Travel to foreign destinations for pleasure (holidays, visits to relations) should be banned - until the numbers are zero. Absolutely necessary and specifically authorized trips, should entail testing at either end of departure and destination. If found to be carrying the virus, that would entail quarantine.
Essential travel would include cargo ships and planes. Even so, the crew must be vetted at either end, and not proceed past the port/airport perimeters. There should be strict customs controls to ensure no person violates these (suggested) procedures.
STATS
Summary: Since 31 December 2019 and as of 22 September 2020, 31,377,058 cases of COVID-19 (in accordance with the applied case definitions and testing strategies in the affected countries) have been reported, including 965,681 deaths.

Cases have been reported from:

Africa: 1 414 596 cases; the five countries reporting most cases are South Africa (661 936), Morocco (103 119), Egypt (102 141), Ethiopia (69 709) and Nigeria (57 437).

Asia: 9 526 981 cases; the five countries reporting most cases are India (5 562 663), Iran (425 481), Bangladesh (350 621), Saudi Arabia (330 246) and Iraq (322 856).

America: 15 810 903 cases; the five countries reporting most cases are United States (6 857 967), Brazil (4 558 068), Peru (772 896), Colombia (770 435) and Mexico (700 580).

Europe: 4 591 374 cases; the five countries reporting most cases are Russia (1 109 595), Spain (671 468), France (458 061), United Kingdom (398 625) and Italy (299 506).

Oceania: 32 508 cases; the five countries reporting most cases are Australia (26 912), Guam (2 147), New Zealand (1 464), French Polynesia (1 332) and Papua New Guinea (526).

Other: 696 cases have been reported from an international conveyance in Japan.

Deaths have been reported from:

Africa: 34 088 deaths; the five countries reporting most deaths are South Africa (15 992), Egypt (5 787), Morocco (1 855), Algeria (1 679) and Ethiopia (1 108).

Asia: 177 665 deaths; the five countries reporting most deaths are India (88 935), Iran (24 478), Indonesia (9 677), Iraq (8 625) and Turkey (7 574).

America: 534 546 deaths; the five countries reporting most deaths are United States (199 881), Brazil (137 272), Mexico (73 697), Peru (31 474) and Colombia (24 397).

Europe: 218 449 deaths; the five countries reporting most deaths are United Kingdom (41 788), Italy (35 724), France (31 338), Spain (30 663) and Russia (19 489).

Oceania: 926 deaths; the five countries reporting most deaths are Australia (851), Guam (37), New Zealand (25), Papua New Guinea (7) and Fiji (2).

Other: 7 deaths have been reported from an international conveyance in Japan.

Only if we end the pandemic everywhere can we end the pandemic anywhere. The entire world has the same goal: cases of COVID-19 need to go to zero.

While some countries have failed in their response to the pandemic, others met the challenge much more successfully. Perhaps the most important thing to know about the pandemic is that it is possible to fight the pandemic.

Responding successfully means two things: limiting the direct and the indirect impact of the pandemic. Countries that have responded most successfully were able to avoid choosing between the two: they avoided the trade-off between a high mortality and a high socio-economic impact of the pandemic. New Zealand has been able to bring infections down and open up their country internally. Other island nations were also able to almost entirely prevent an outbreak (like Taiwan, Australia, and Iceland). But not only islands were able to bend the curve of infections and prevent large outbreaks – Norway, Uruguay, Switzerland, South Korea, and Germany are examples. These countries suffered a smaller direct impact, but they also limited the indirect impacts because they were able to release lockdown measures earlier.
STAY HEALTHY
As with any disease a healthy lifestyle and diet can improve immunity. Eat fruit or drink smoothies. Eat high protein foods, such as nuts and fish. Use good whole meal and mixed grain breads. Mixed cereals with yogurt, honey or maple syrup is better than fattening desserts.
Nobody knows if vegetarians or vegans fare better than meat eaters.
Get plenty of sleep and take vitamins occasionally. Take regular exercise, such as walks in the country if you are lucky enough to live there. Otherwise, exercise at home.
Stay off alcohol. Drink teas or coffee instead. Now is a good time to stop smoking.
Drive an electric car. Diesel and petrol fumes aggravate breathing problems.

HYGIENE
Personal hygiene is important as a first line of defence. Keep work surfaces clean.
Recommended measures to prevent infection include frequent hand washing, maintaining physical distance from others, quarantine (especially for those with symptoms), covering coughs, and keeping unwashed hands away from the face.
This is especially important when you have to go out for food, or to other important appointments. After unloading goods, wash your hands. While shopping (for example) do not touch your face or rub your eyes. You will want to.
The virus can only survive in air and on surfaces for so long, but that is how you will catch it - so think about not sharing mobile phones or computers.
Most people without complications survive. It would pay to stock up on cough syrups, throat lozenges and honey. Be prepared. It is better to have medicines and not need them, than to need them and not have them. So, stock up on paracetamol and ibuprofen.
At the moment (Sept 2020) there is no cure though a vaccine is hoped for.
We proposed implementing airport and dockside disinfection procedures. It is high time we had personal medical monitoring linked to a national database, linked to an international database. In a digital age where we exploring Mars with autonomous robots, this should have been a medical priority.
MEDICAL ASSISTANCE
These are only common sense suggestions. If in doubt, see your doctor.
HISTORY
Coronavirus disease 2019 (COVID-19) is an infectious disease caused by severe acute respiratory syndrome coronavirus 2 (SARS-CoV-2).
It was first identified in December 2019 in Wuhan, Hubei, China, and has resulted in an ongoing pandemic.
The first confirmed case has been traced back to 17 November 2019 in Hubei.
As of 31 July 2020, more than 17.3 million cases have been reported across 188 countries and territories, resulting in more than 673,000 deaths. Fortunately, more than 10.1 million people have recovered, with others recovering.
CONSERVATION
Planet Earth is unique in our solar system for its ability to support the evolution of animal and plant life. most importantly for the planet, human life is important as the only species with the ability for intelligent thought. It may be unique in all the universe, making us guardians of that spark of intelligence, potentially throughout the known galaxy. For this reason we must preserve what we have or at least make plans to abandon Planet A and migrate to Planet B.
LINKS & REFERENCE
https://www.ecdc.europa.eu/en/geographical-distribution-2019-ncov-cases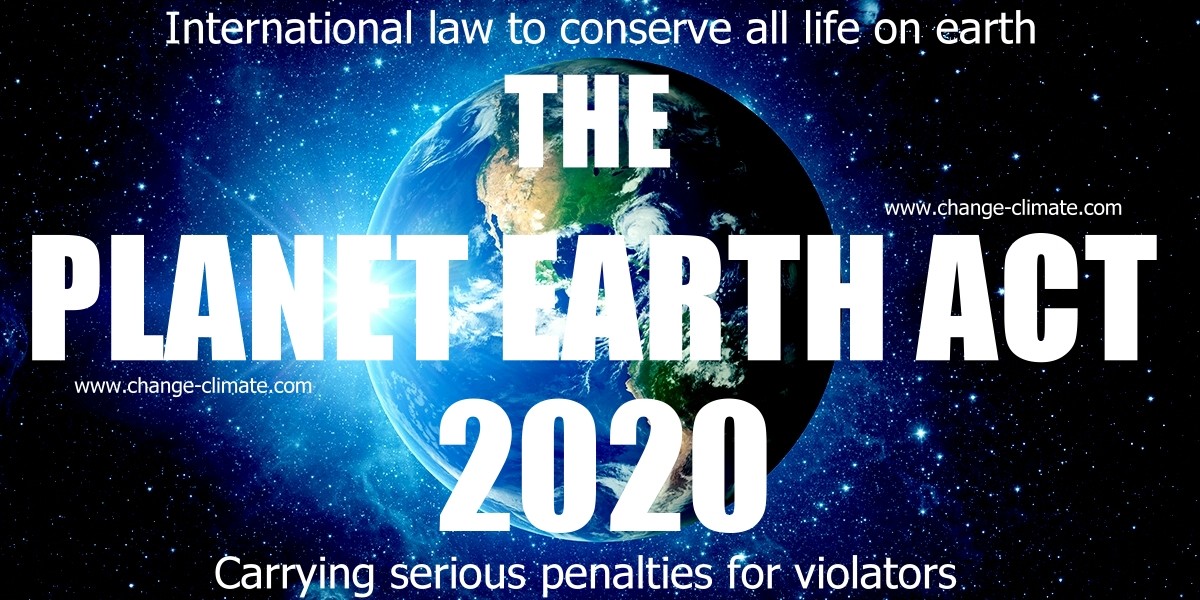 Proposals to make it illegal to operate a country or a business such as to cause harm to planet earth and its inhabitants, may sound extreme, especially to those plundering our natural resources. But, it is probably one of the sanest proposals from 2020, where in 2019, some of the G20 pushed for more time to exploit their kleptocratic empires. A radical, peaceful, solution is long overdue. But it all depends on the electorate having the gumption to vote green, instead of voting for greed.
Please use our A-Z INDEX to navigate this site